Almost 29 million nights were spent in the country by overseas visitors over the first six months of the year. This was a 9% increase on the previous year or an extra 2.5 million bed nights. Continental European visitors were the top source of demand, accounting for 45% of total bednights in the country, followed by British and long haul visitors.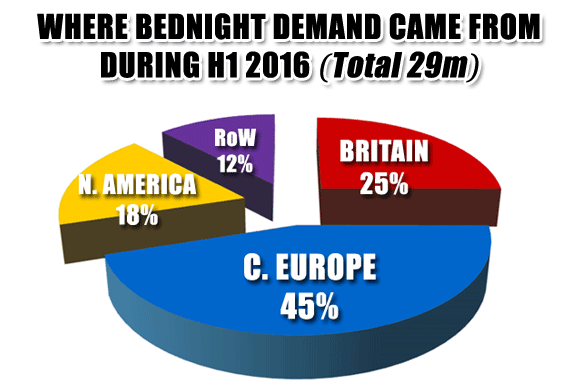 At least 56% of bednights were spent in 'paid for' accommodation businesses - hotels, guesthouses, B&Bs and rented accommodation. Together they catered for 16 million bednights, up 11% compared to a year ago. Overall there would appear to have been little change in the spread of demand across the accommodation options.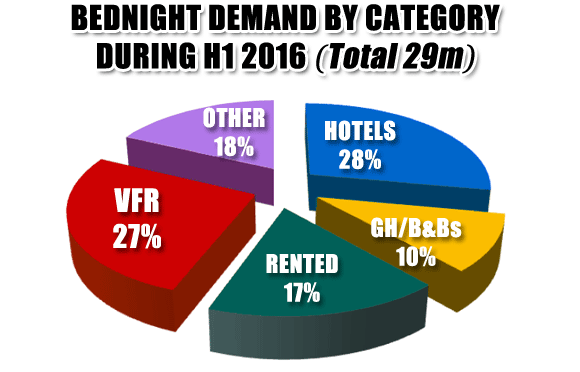 Hotels catered to an estimated 8.1 million bednights, a 11% increase on the same period a year ago. Growth in demand was evident across the top source markets with 3.1 million from Continental Europe (+12%); 2.2 million each from North America (+5%) and Britain (+17%); and just under 0.6 million from the rest of the world (no change). Hotels held their market share position at 28%.
Demand for Guesthouses & B&Bs rose by close to 20% increase to just over 3 million bednights. Mainland Europe continues to be the prime source of business for the sector, the source of at least half of demand, with a continuation of growth in demand from North America.
The growth in demand for rented accommodation appears to have slowed over the first half of the year. The sector catered to just under 5 million a 6% increase on a year ago. This might appear to be contrary to expectations with the reported rise in the use of Airbnb, although some renters may have been classified under 'other accommodation'.