Ireland earned close to €5.175 billion from overseas tourists this year, down 1% from the previous year. The latest CSO data for the first 9 months of the year, showed a 1% drop in receipts from most markets except North Americans with a 2% increase in expenditure in the country.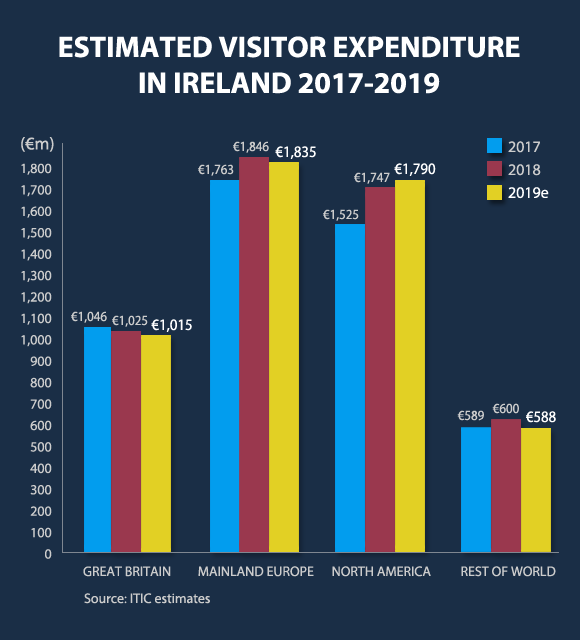 Over the past five years Aer Lingus have successfully developed Dublin as a hub for transatlantic travel with over 1 million journeys annually now accounted for by transfer passengers and day visitors to Ireland (as reported in the CSO's monthly release). For example 1 in 5 North American arrivals are now transferring through Dublin Airport.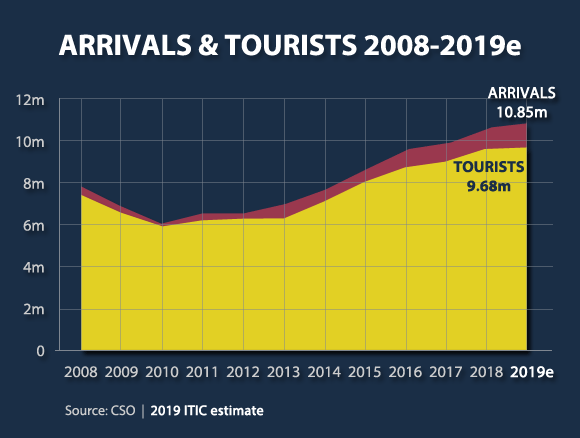 Overseas tourist numbers were at best up 1%, only marginally ahead of the 9.6m recorded in 2018.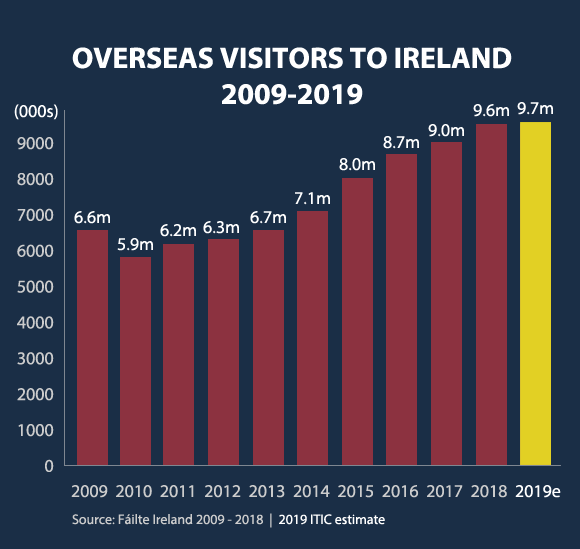 Mainland Europe is now Ireland's top source market by volume having overtaken numbers from, Britain in 2018. Based on arrivals all markets show an increase in visitor numbers in 2019, however, the data include day visitors and a growing volume of transfer passengers using Dublin as hub for transatlantic travel.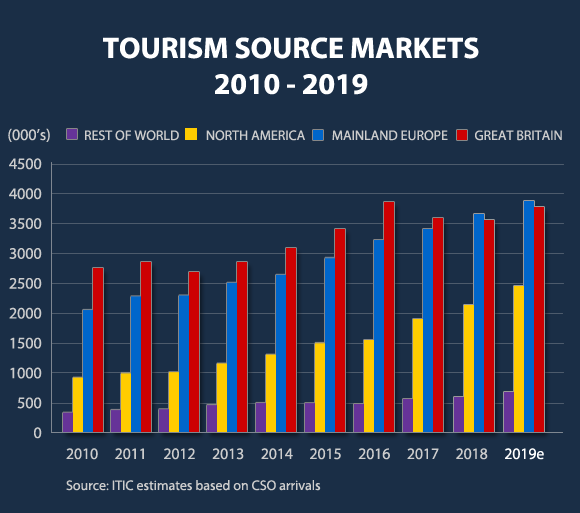 Holiday visits grew by an estimated 1% to reach close to 5.3m in 2019, with a marked slowdown in growth from North America. Visiting friends and relatives (VFR) traffic was less buoyant, down an estimated 2% over the first nine months, while business trips grew by 8% over the same period.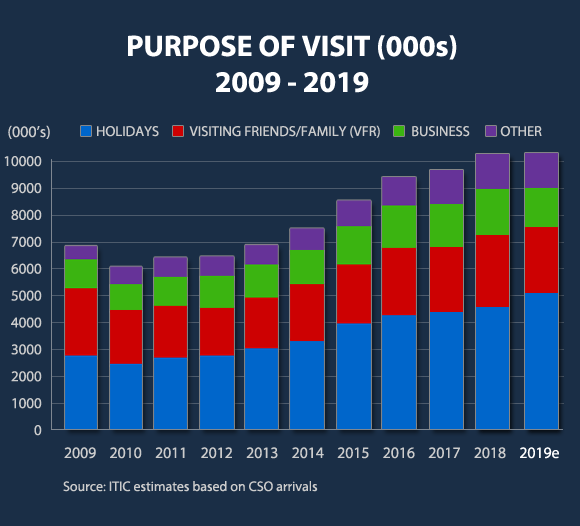 Some key insights into Ireland's overseas tourism demand in 2019
Demand markedly moderated as the year progressed
Despite encouraging growth in demand over the early part of the year, overseas tourist volumes and expenditure in the peak season July to September were marginally below the same period a year previously. While growth in international travel is reported to have moderated as the year progressed demand has not entered into negative territory.
The number of overseas tourists to Ireland moved from almost 6% growth in Q1, despite the timing of Easter which fell in Q2 '19, to no growth in Q2 and a decline in Q3. Within the overall tourist volume, those coming on holiday increased by 5% in Q1 but recorded no growth over the next 6 month period.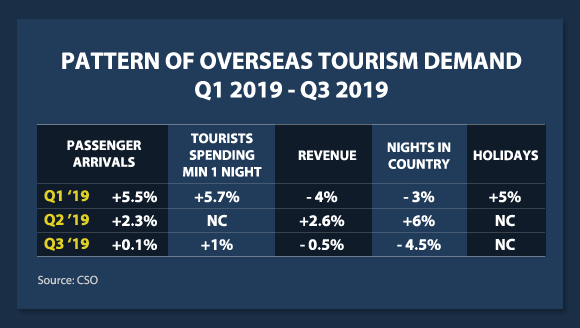 Average expenditure per trip declined in 2019
Tourists from long haul markets are higher spending compared to tourists from short haul markets, reflecting longer average length of stay in the country and spending patterns. Visitors from Australia/ Asia/Pacific region are the highest spending tourist at an average of just over €840 per visit, followed by North American visitors spending an average of €717 per visit. The average expenditure by visitors from continental Europe tends to be close to €500 per visit, with Germans the higher spenders. British visitors on average spend €264, reflecting the relatively high incidence of short stay visits.
The average expenditure per visit showed a drop on the previous years across many markets. The drop in spending broadly reflects a decline in the length of stay. Perhaps more interesting is that the decline was relatively deeper for the higher spending markets of North America and Rest of the World, other than in the case tourists from France, which had a disproportionate impact on the aggregate level of receipts.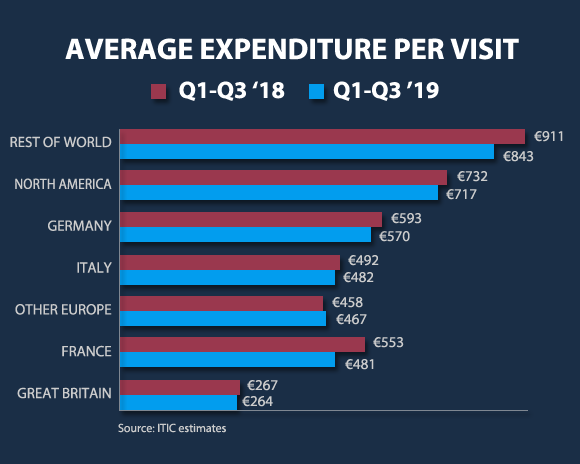 Growth in aggregate earnings lagged the rate of volume increase due largely to a decline in the length of stay and average daily expenditure. This presents a challenge for the year ahead.
Average length of stay continues to slide
The average length of stay has historically been in decline, a continuing trend evident over the first 9 months of 2019. The decline in average stay was evident in Q1 and more pronounced in Q3 this year. During the peak Q3 the average stay dropped from 7.4 nights in 2018 to 7.0 nights in 2019.
While the average stay varies widely by source market, purpose of visit, and seasonality, the drop in Q3 was most evident amongst long haul, higher spending, tourists and holiday visitors from mainland Europe.
A context for tourism performance in 2019
A slowdown in growth in international travel
Worldwide demand for travel continued to grow in 2019, although at a slower pace than in recent years. Slowing economic growth, potential trade wars, geopolitical tensions and social unrest, plus continuing uncertainty over Brexit all came together to create a tougher than anticipated business environment for the travel and tourism industry worldwide.
While there was a modest increase in airline capacity across most regions, airlines worldwide experienced a moderate slowdown in passenger demand growth. The grounding of the Boeing 737MAX and delivery delays of new aircraft dented the schedule and growth plans of many carriers, while tough trading conditions saw several airlines go out of business.
As in previous years the growth rate of outbound travel continues to be highest, although slowing, in the emerging source markets of Asia, while sustained modest growth is evident from the more mature source markets in Europe and North America.
The number of people making international trips during the first nine months of 2018 rose by 4% year-on-year, with mixed performance across the world, with Europe enjoying a 3% increase in tourism. The United States led growth in international tourism expenditure in absolute terms, supported by a strong dollar, while China, the world's top source market saw outbound trips increased by 14% in the first half of 2019, though expenditure fell 4% compared to the same period a year earlier according to the United Nations World Tourism Organisation (UNWTO).


Airline passenger traffic, measured in RPKs, is expected to show a 4.2% growth in 2019, compared to 6.5% in 2018, as 5.54 billion passengers took to the skies earning global airlines a 3.2% increase in revenue. International Air Transport Association (IATA).


Passenger throughput at European airports was up 4.3% for the first half of the year, dropping to 2.6% in Q3 and to 2.1% in October, the weakest monthly performance so far in 2019. Airport Council International (ACI)
An analysis would suggest a number of factors which contributed to Ireland's performance slipping below international benchmarks in 2019.
BREXIT depressed demand for Ireland
The ongoing uncertainty surrounding the UK's withdrawal from the EU continued to be a significant factor impacting tourism to Ireland in 2019. The most apparent impact continued to be the relative weakness of sterling which not only lessened the attractiveness of Ireland for British tourists, but also resulted in the UK being a more competitively attractive to tourists from other markets. Ireland already with a perception as a high cost of living destination, particularly in the British market, was further competitively disadvantaged by the increase to 13.5% VAT on tourism services in 2019 which pushed up the price of accommodation, food and other services in an already difficult year for the industry.
'Perceptional damage' resulting from ongoing media coverage of Brexit and Ireland's land border issues is likely to have caused confusion and adversely impacted demand for Ireland in some key source markets.
Access - a key driver of tourism demand - curtailed in 2019
After several years of increasing air lift driving growth in tourism to Ireland, most apparent from the USA, Canada, and Germany, there was less capacity into Ireland for the 2019 peak season. While the airlines' planned a 5% increase in capacity for summer 2019, a forced reduction due to grounding of the Boeing 737 MAX and late delivery of new aircraft resulted in only an increase of close to 3%. The impact was most evident on transatlantic routes with the curtailment and cancellation of services, including loss of services to Shannon and Cork, resulted in little change on available capacity compared to the previous summer. This undoubtedly impacted tourist flows to Ireland from the US and Canada, as demands increased from Irish outbound travellers and the number of passengers using Dublin as a hub for their transatlantic travel grew. In addition, the collapse of WOW meant the loss of capacity on indirect budget travel from North American via Iceland to Ireland.
VAT increase on tourism services
The decision by the Government to raise the VAT on tourism services from 9% to 13.5%, effective January 01, represented a serious blow to competitiveness for businesses in the sector. The immediate imposition of the increase put many businesses at a severe disadvantage, especially in respect of contracts already agreed as in many cases the increase could not be recouped from the customer. In addition, the price rise caused an immediate adverse reaction from trade intermediaries around the world at a time when the sector was facing into a challenging and tough trading season. The imposed price increase saw Ireland's competitiveness dented and pushed more potential customers to consider Britain with its soft sterling as a more attractive proposition.
The net result would appear to be that while the Exchequer will have benefitted from an increase VAT returns from the sector, growth has been stymied, aggregate expenditure in the country has declined and businesses have suffered with a reduction in yield, thereby threatening sustainability of employment and future growth.
Lack of adequate investment in tourism budgets
At a time of increased global competition for tourists, and the added risk of Brexit on the tourism and hospitality industry, budgets for the tourism sector allocated by Government in 2019 were inadequate to meet the challenges. As a consequence Ireland continued to lose share of voice in key markets and was not in position to make the appropriate marketing investment in new emerging and developing markets – markets which have proven potential to deliver good growth in revenue and which are critical to Ireland's future tourism growth as established source markets mature. The supplementary budget allocations from Government at the back end of the year, while welcome, may have less effective due to timing. Worryingly there is a reduction in destination marketing budgets from Government in 2020.

Domestic Tourism in 2019
Current forecast suggest that receipts from the domestic market will reach close to €1.9 bn. In the absence of any official data Fáilte Ireland are projecting that revenue from domestic demand and tourist traffic from Northern Ireland will be down in the region of 2% based on reported occupancy levels and recognising a softening of consumer sentiment. It is also notable that outbound travel by Irish residents has been particularly buoyant in 2019, reporting an increase of 8% in trips and 14% in expenditure over the first 9 months. The growth pattern especially strong outside of the peak season suggests that demand for domestic trips, especially short breaks, may have been negatively impacted by the growth in overseas trips.