INTRODUCTION
As we enter the critical months of the year for Irish tourism, the sector's recovery continues to grow momentum although supply challenges and cost inflation are likely to hamper performance. This postcard bulletin from the Irish Tourism Industry Confederation (ITIC) outlines estimates for inbound tourism volume for Q1, looks at global travel and tourism projections, and highlights growing connectivity to the island of Ireland. The economic outlook in our key source markets is also analysed as Irish tourism aims to continue its recovery from the ravages of the pandemic. Full recovery for Ireland's largest indigenous industry and biggest regional employer is critical for the sector and demand looks positive but supply – particularly around the areas of car hire and tourism accommodation – is compromised. ITIC continues its call to Government for a balanced approach to the refugee crisis with the state's over-reliance on tourism accommodation stock set to have damaging economic consequences for the broader tourism industry. This is a key year for Irish tourism and opportunities must be maximised with challenges managed.
RECOVERY MOMENTUM CONTINUES IN Q1 2023
Overseas visitor numbers climbing back to pre-pandemic levels in Q1 2023
Preliminary estimates suggest that close to 1.7 million overseas visitors arrived in Ireland, 16% below the same period compared to the record year of 2019. Indicators suggest that demand from mainland Europe and North America is to the forefront of the tourism recovery rate, as has been the case in the latter part of last year, while demand from Britain, the largest volume market, remains soft. Q1, historically in pre-pandemic years, accounted for approximately 20% of annual visitor arrivals.
Travel to and from Ireland back to pre-pandemic levels
Close to 4 million passengers arrived into Ireland over the three month period January to March, a marginal increase (+2%) on 2019 level. Dublin, Cork and Shannon airports reported three consecutive months of record numbers. Air travel recovery has been driven by leisure demand, most noticeably from the domestic outbound market. Expanded capacity and new routes on offer, led by Ryanair, has boosted demand to popular European sun, ski and city break destinations. While European routes have been leading the recovery, demand on transatlantic services has been close to 2019 levels. In contrast demand on cross-channel routes continues to lag pre-pandemic levels.
Irish airports experienced their busiest March in 4 years, with increasing passenger numbers over the St. Patrick's Day festivities, combined with other sporting and entertaining events.
Dublin Airport has been in the vanguard of a small cohort of Europe's large and capital airports to exceed pre-pandemic passenger numbers in the early months of 2023, only exceeded by Lisbon and Athens. Total passenger traffic through airports across Europe was running at -11% below pre-pandemic level over the first two months of 2023.
Hotel sector performance January & February 2023
Hotels across the country reported an average occupancy of 63%, up from 44.5% the previous year and marginally ahead of the same months in 2019. Dublin hotels occupancy at 67.8% was below that achieved in 2019.
The average achieved rate (ADR) across the country was €138.27, with Dublin achieving €144.40. The latter represented a 21% increase in revenue per available room compared to the same period in 2019, not surprising considering the inflation and soaring business costs in the interim.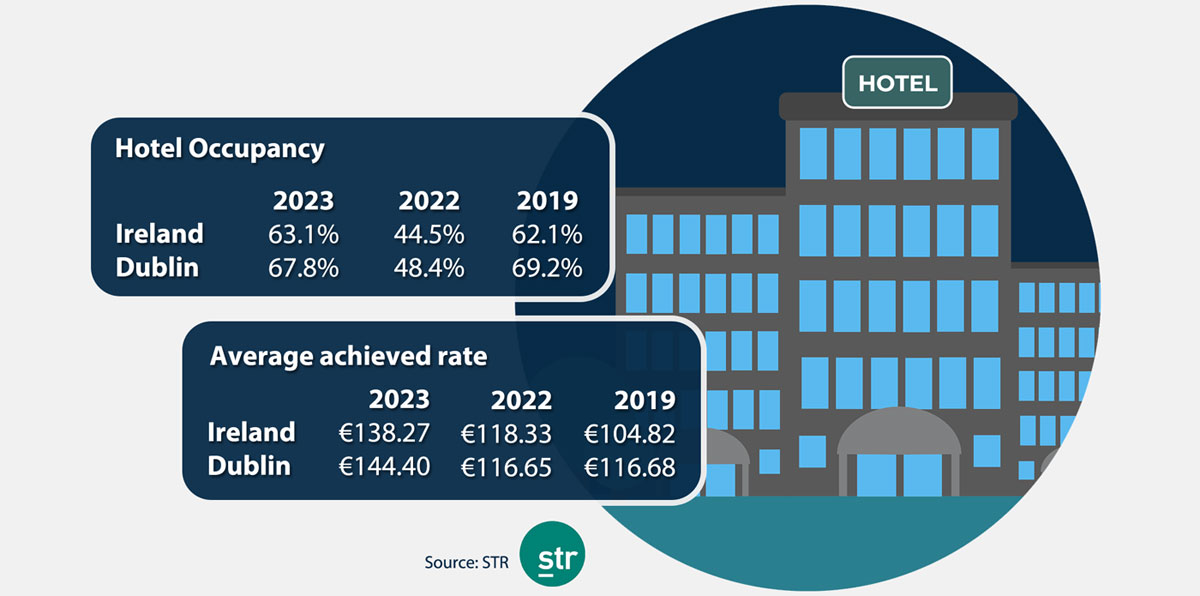 International travel demand continues to rebound around the world
Despite economic uncertainty demand continues to be strong and recovering to pre-pandemic levels. People are travelling in ever greater numbers.
Globally international travel is up to close 80% of 2019 levels, with gap narrowing each month. The reopening of travel to and from the Asia Pacific region is expected to accelerate as the year progresses.
40% of Europe's airports have recovered or exceeded their pre-pandemic passenger volumes, with recovery of demand on international routes – driven mainly by intra-European and transatlantic routes. Increasing passenger numbers is being fuelled by leisure demand and the significant expansion of capacity on offer by low cost carriers (LLCs), led by Ryanair. The Irish based carriers has reported a 13.6% system wide growth in passenger numbers to 35 million, over the first three months of the year, reporting a 92% load factor on a 14% increase in capacity across its European route network.
TRAVEL & TOURISM GLOBAL OUTLOOK – 2023 & BEYOND
Despite the uncertain economic signals, demand for air travel continues to be strong, with the world wide airline traffic (RPKs) currently just 15% below 2019 levels. People really want to travel, with airline ticket sales giving a positive outlook for demand, with passenger demand on transatlantic and intra-European routes getting back to normal. Airlines are forecast to return to profitability in 2023. (IATA)
In 2022 the US outbound market recovered to within 5% of 2019 volumes. Some destinations have already shifted from recovery to growth – thanks to a surge in post COVID "revenge leisure travel". The re-opening of travel from Asia-Pacific markets, principally China, is expected to hasten the global tourism recovery in 2023.
Earlier this year a survey of amongst UNWTO's panel of Tourism Experts on the expected time of recovery to pre-pandemic levels reported that while 28% and 39% expected full recovery in 2023 and 2024 respectively, 26% did not foresee recovery until 2025 or beyond. The main factors weighing on recovery were the economic environment; higher transport and accommodation costs; uncertainty derived from the conflict in Ukraine; and low consumer confidence.
Eurocontrol now expects that 2019 flight levels across Europe will be reached by 2025, having slightly revised upwards is forecast for 2023 and 2024 due to continuation of pent-up demand. After 2025, flight growth is expected to average 1.5% per year in the base forecast. Ireland is expected to be in line with the overall forecast for Europe.
IRISH CONNECTIVITY RESTORED TO PRE-PANDEMIC LEVELS FOR SUMMER 2023
Capacity on scheduled airline services, as currently published, shows capacity exceeding Summer 2019 levels – more than 12% above last summer and at least 4% ahead of the 2019 season. The schedule indicates that all airports are slated to have more capacity on offer. While much of the incremental growth is focussed on intra-European, particularly outbound sun destinations, routes, inbound tourism will benefit from a restoration and expansion on transatlantic services and additional capacity on selected routes from European and UK metropolitan areas.
Summer 2023 also sees an exciting expansion of ferry services linking Ireland and mainland Europe, presenting a significant opportunity for inbound tourism flows.
The following are some of the highlights of air and ferry services on offer to & from Ireland this summer.
Dublin Airport
Dublin Airport will be have direct services to some 190 destinations worldwide, with over 26 million seats available – UK (7.5 million), Spain, Italy, and Portugal (5.8 million), and the US (2.8 million).

North America
Dublin is back as Europe's 5th largest transatlantic hub, with 218 flights per week to USA & Canada
Aer Lingus: increased capacity and frequency with over 100 departures per week, including new route to Cleveland and restoration of Hartford service.
Delta Air Lines: daily service from New York (JFK) and Boston, supplemented with summer service from Atlanta.
United Airlines: maintains double daily service from Newark; and daily services from Chicago and Washington Dulles.
American Airlines: year round daily service from Philadelphia with daily summer service from Dallas/Fort Worth, Charlotte and Chicago.
Canada services operated from Toronto, Montreal, Vancouver and Calgary by Air Canada, Aer Lingus, West Jet and Air Transat.
UK & Europe
Ryanair will operate largest ever summer schedule with over 1,000 departures per week to a total of 130 destinations across 27 countries. 14 new routes include: Leipzig; Genoa, Venice, Stockholm and Newquay.
Other new routes include:
◦ Tel Aviv (EL AL)
◦ Bergen (Wideroe)
◦ Brest (Aer Lingus Regional);
◦ Brindisi (Aer Lingus & Ryanair); and Trieste (Ryanair)
Over 800 flights per week provide connect Dublin with over x departure points in Britain, including 300 flights per week to London area airports.
Middle East
35 flights per week provide connectivity to the Middle East and destinations beyond on services by Emirates, Qatar and Etihad.
Cork Airport

Summer 2023 schedule offers over 1.2 million seats across the 44 routes operated by 8 airlines.
Ryanair will operate their largest ever summer schedule with 29 routes, including 5 new summer routes and increased frequencies on 11 routes. New routes include Seville, La Rochelle, Venice Treviso, Rome Fiumicino and East Midlands, together with increased frequencies from London Stansted, Manchester, Birmingham, Liverpool, Barcelona Reus, and Bordeaux.
Aer Lingus will maintain key European hub connectivity to Amsterdam Schiphol and London Heathrow, with multiple daily departures. Aer Lingus Regional will restore connectivity to Bristol.
Key European hub connectivity, of particular importance to inbound tourism, is provided by Air France with daily service from Paris Charles de Gaulle; KLM with twice-daily service from Amsterdam Schiphol; Lufthansa operating from Frankfurt; and Edelweiss from Zurich.
Shannon Airport
A total of 33 destinations in 11 countries will be served from Shannon, including 6 new routes for summer 2023.
Ryanair will operate 27 routes including new routes to Naples, Porto, Beziers, Newcastle, and Liverpool, together with popular sun destinations.
Aer Lingus will maintain connectivity with London Heathrow, and provide daily departures to New York & Boston.
United Airlines will add service from Chicago (eff. May 26) to its daily Newark service.
Ireland West Airport
The summer 2023 will be the busiest on record with services to 20 airports across the UK and Europe.
Ryanair will operate its biggest ever flight schedule from the airport this summer with flights to 16 destinations including new services to mainland Europe which include Cologne, Milan and Barcelona, in addition to sun destinations.
Aer Lingus switch of daily service to Heathrow from Gatwick significantly improves the transit access to the west of Ireland for tourists.

Kerry Airport
Ryanair maintains service on 9 routes serving Dublin, London Luton and Stansted, Frankfurt, Manchester, Alicante, and Faro.
Regional French airline Chalair plans to launch new weekly summer service from Brest and Quimper in July.
FERRY SERVICE NEWS
Ireland – France
Stena Line will operate a second vessel on the Rosslare – Cherbourg route providing 6 sailing per week in each direction from June 30, offering increased passenger and car capacity, including pet cabins.
Brittany Ferries expanded sailings on 3 routes: Cork to Roscoff (two sailings per week); Rosslare-Cherbourg (weekly) and Rosslare-Le Havre (weekly)
Irish Ferries maintains service between Dublin and Cherbourg with up to 4 sailings in each direction per week
Ireland-Spain
Brittany Ferries operate a twice weekly service between Rosslare and Bilbao on its new cruise ferry Salamanca with accommodation for over 1,000 passengers and catering to foot and bike passengers for the first time on the route.
Ireland-Britain
Irish Ferries has announced that its Rosslare-Pembroke service will be operated from June by a chartered vessel to be renamed Oscar Wilde which will have the largest passenger capacity of any ferry on the Irish Sea – 2,800 passengers with 520 berths.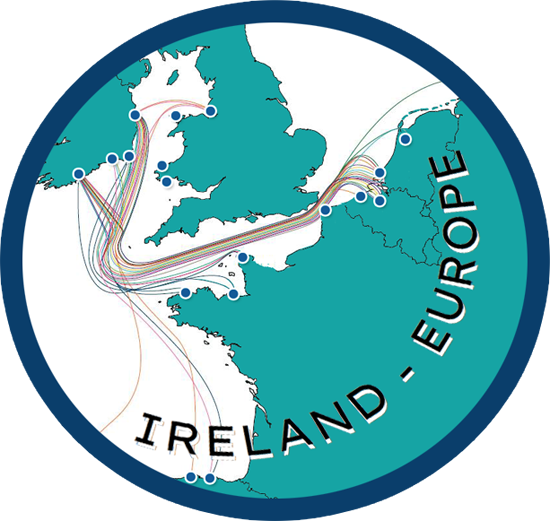 GLOBAL ECONOMIC OUTLOOK
More positive but recovery elusive and fragile
Most economic growth forecasts have been upgraded since the start of the year on the back of modest pick-up after weakness in the latter months of 2022. The current outlook suggests that the global economy may have started a modest recovery. Growth is projected to remain at below-trend rates in 2023 and 2024, according to the OECD's latest outlook report.
The ongoing war of aggression against Ukraine, trade tensions, rising costs of living, and more recent concerns around the vulnerabilities of financial institutions, continue to represent significant downside risks creating uncertainty.
Declining energy prices have contributed to a modest improvement in the global outlook, together with some easing of headline inflation, although core inflation is proving sticky with strong price increases in the services sector. Elevated inflation coupled with tight labour markets is likely to see many central banks maintaining high policy rates into 2024.
EuroZone – fragile recovery continues
Despite a solid year-end growth and a good start to the year the outlook for 2023 is one of stagnation, with a risk of a mild recession. ECB baseline forecast is for 1.0% GDP growth this year, more bullish than the OECD's projected 0.82%.
Headline inflation appears to have peaked, with the annual rate down to 6.9% in March, from a peak of 10.6% in October, largely driven by a fall in energy prices. Tighter monetary policy is expected to further dampen domestic demand into 2024. The European Central Bank could decide to halt further interest rates rises this summer.
The German economy, Europe's largest, is expected to avoid recession, and expand by 0.3% this year, thanks to a drop in energy prices among other factors. Inflation is expected to see a marginal drop from 6.9% in 2022 to 6% this year. Positive indicators include successive monthly increases in factory orders and rising exports, with business confidence rising in March for the fifth success month to its highest since February 2022, the month Russia invaded Ukraine, although still below pre-pandemic averages. German consumer confidence is expected to improve in April as energy prices drop, according to the latest report from GfK. However, persistent inflation is likely to continue to stall a sustained recovery in domestic demand.
United States – possibility of recession in mid-year despite strong Q1
The outlook for real GDP growth improved over the past three months on some stronger than expected data. Inflation moderated notably in March, as consumer prices rose 5% from a year earlier, continuing the slowdown from the peak at 8.9% in June 2022. The Federal Reserve raised its benchmark interest rate to a range of 4.75% to 5.0% in March, the highest rate since 2007.Demand for labour remains strong, with unemployment rate falling in March to 3.5%. The moderate pace of hiring in recent months shows that the Fed's inflation fighting strategy is gradually delivering.
Consumer confidence unexpectedly increased slightly in March, based on a more positive outlook about expectation of what's ahead, despite the recent financial market turmoil as two regional banks collapsed. However, the confidence index remains below the average in 2022. Americans expect inflation to remain elevated over the next year. Though the correlation between confidence and consumer spending has been weak, survey results suggest that consumption could continue to grow at a moderate clip and keep the overall economy afloat. Consumers report their intention to cut back spending on highly discretionary services, but to spend more on less discretionary services, including hotel expenditure on personal travel. (The Conference Board, Consumer Confidence Index March 2023)
The US dollar remains relatively strong, trading at €0.91 in March, stronger than the trend line over the past five years, having traded at close to parity from July to November 2022.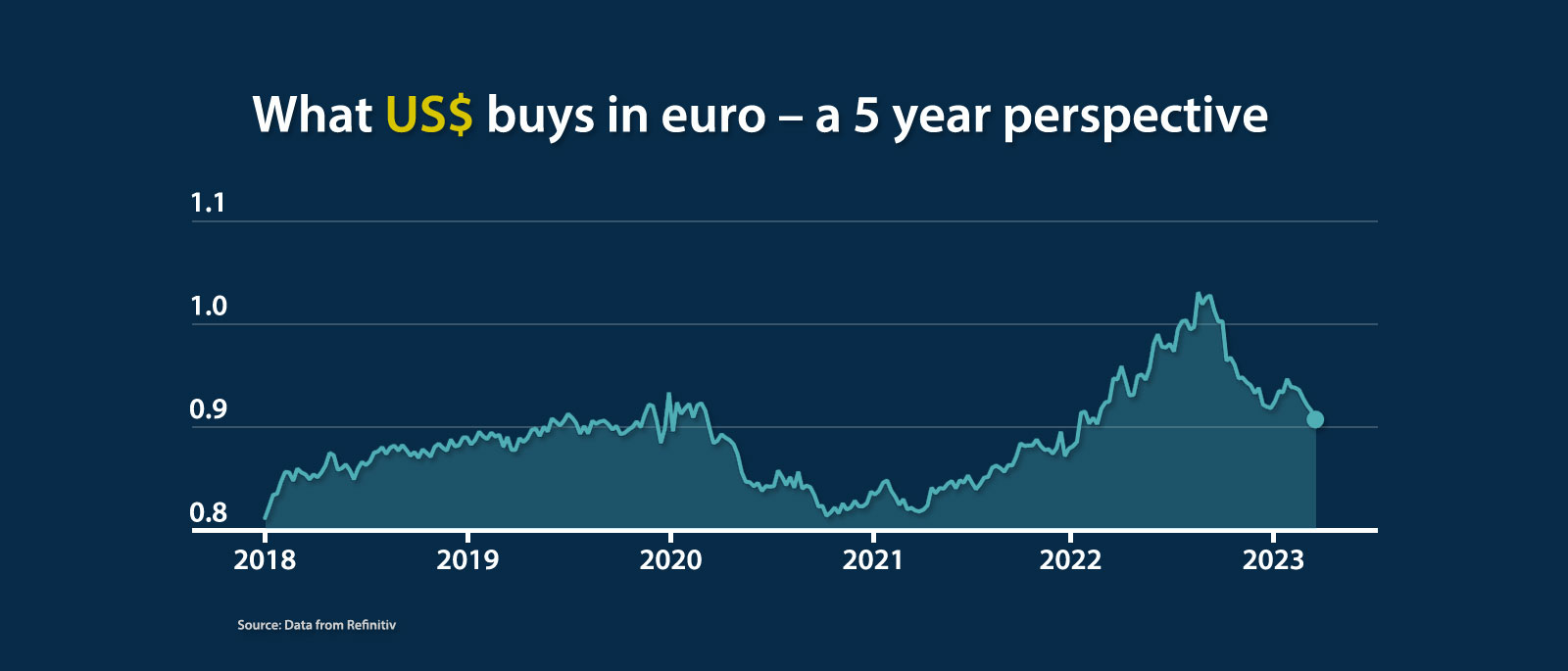 UK economy expected to shrink this year
The UK is on track to be the worst performing G7 economy this year, according to the latest IMF report. This despite the fact that the near term economic downturn is set to be shorter and shallower, with the medium term output higher, than previous forecasts.
While consumer confidence improved marginally in March, the highest reading in a year amid better economic forecasts, the metric remains well below long term average.
Concerns over personal finances continue to weigh heavily, as wages are not keeping pace with cost of living increases, despite significant pressure from strikes and a tight labour market. (GfK Consumer Confidence Indicator, March 2023).
Inflation unexpectedly jumped in February to 10.4%, after three months of decline, placing further pressure on households. Food and energy bills, as well as higher interest rates currently at 4.25%, with the expectation that it will increase further in May, are squeezing household budgets. The UK consumer is increasing focused on value. Inflation is likely to fall in 2023 but there is a strong possibility that it could prove more difficult to unwind.
The pound sterling was trading at 1.13 euro in March, with exchange rate volatility evident over the past 5 years.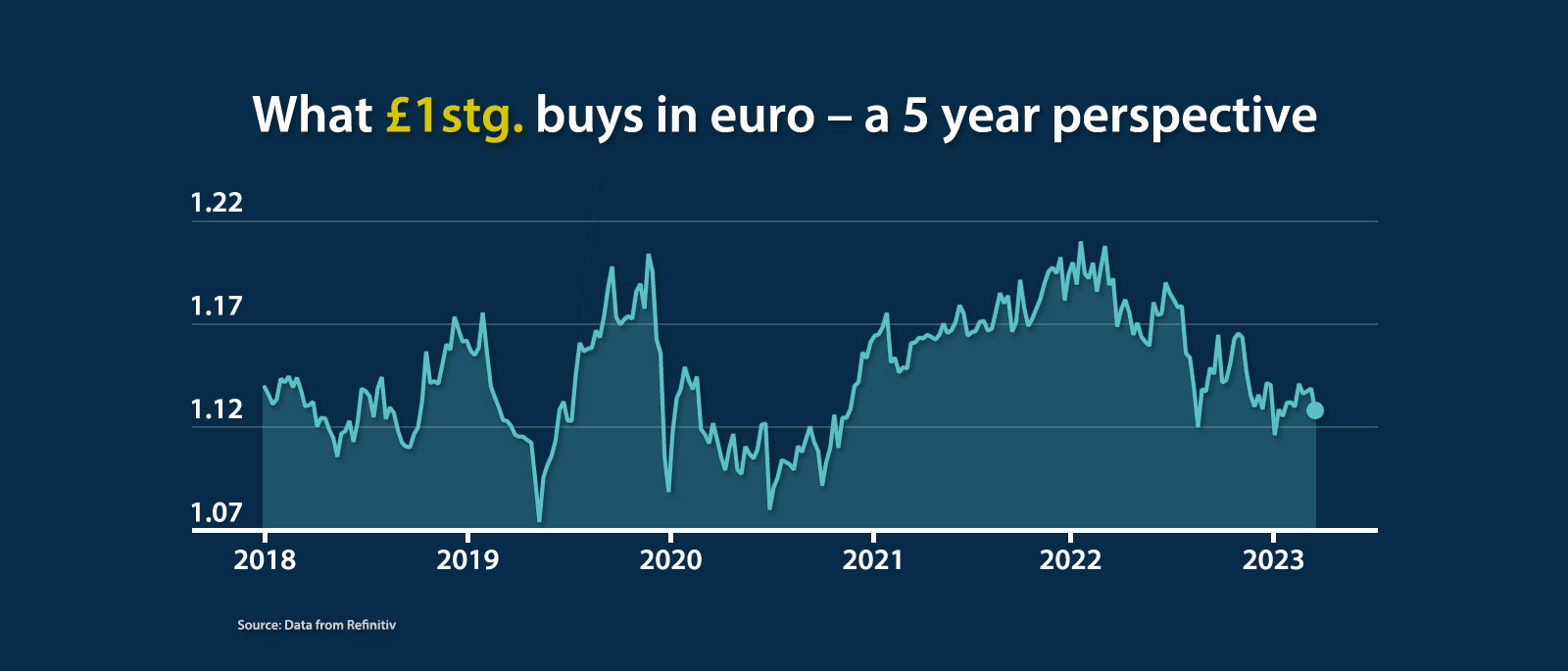 Ireland – economic growth forecast upgraded
The Irish domestic economy is forecast to grow by 3.8% in 2023 and by 3.9% in 2024, according to the ESRI latest quarterly economic report. Inflation is expected to moderate due to falling energy prices, falling to 4.5% this year. Prices are forecast to remain high, leading to interest rates remaining high for longer – putting pressure on many household budgets.
The job market is expected to remain tight, with unemployment near historical low of 4.3% in February.
Consumer confidence declined to a three month low in March, well below the February 2022 mark. The latest monthly marginal decline in sentiment highlights the pressures on household finances rather than a dramatic change in mood, according to the KBC Bank survey.
Just under half of Irish people (49%) expect the economic situation to deteriorate over the next year, with 56% reporting that they are worse off than a year ago, according to latest research from Permanent TSB.