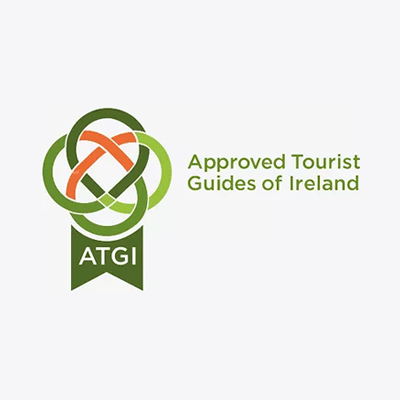 Approved Tourist Guides of Ireland

ATGI is the representative body of the Tourist Guiding profession in Ireland. Originally founded in 1977 as "FIGI", today membership exceeds 470 self-employed guides. Many of these are competent to guide in more than 1 language; currently services are offered in 20 different languages.
ATGI members are fully trained and qualified City, Local and/or National guides who are based all over the island of Ireland. Their dedication to their profession ensures they engage in Continuous Professional Development (CPD) ensuring their skills and knowledge are kept up to date.
A number of ATGI guides also hold an SPSV licence. This entitles them to drive up to 8 passengers in an Approved Public Service Vehicle.
There is a full list of members on the ATGI website: www.tourguides.ie
The website can be used to search for and book a guide. A specific language filter can be applied as part of the search.
ATGI guides are:
Passionate ambassadors for Ireland, ensuring an authentic and memorable experience
Skilled in all aspects of tourist guiding
Proficient in several languages
Specialists in a wide range of topics
Covered by Public Liability insurance
Committed to excellent customer care
ATGI CLG is a member of FEG, the European Federation of Approved Tourist Guide Associations, and of WFTGA, the World Federation of Tourist Guide Associations. Together we strive to promote the highest standards of professional practice in guiding.
Grace Perrott is Trade Liaison Director of ATGI CLG and a member of the ITIC Council.