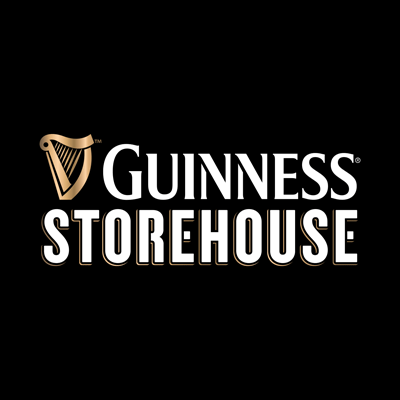 Guinness Storehouse

Located in the heart of St James's Gate Brewery, Guinness Storehouse is Ireland's number one visitor attraction. Originally a fermentation plant, the building was constructed in the style of the Chicago school of architecture with massive steel beams. The fermentation process relocated in 1988 and the Storehouse opened in 2000 as a major new attraction on the Dublin tourism scene.
The Storehouse offers an unforgettable welcome and a magical journey deep into the heart of the world famous GUINNESS® brand and company. This historical building is central to Dublin and Ireland's heritage and has been continually updated to create a blend of fascinating industrial tradition with a contemporary edge. The seven floors bring to life the rich heritage of GUINNESS®, telling the story from its origins here at St. James's Gate in Dublin to its growth as a global brand, known all around the world.
Throughout the seven floors visitors can embark on a journey where they can learn everything there is to know about GUINNESS® from Arthur, the man and his legacy to the key ingredients, the brewing craft, to the transportation and the cooperage. Visitors can experience the Guinness Academy where they learn the craft of pouring their own perfect pint. For true beer lovers, The Guinness Connoisseur Bar offers an intimate and premium experience for Guinness fans and beer aficionados with tutored tastings on how to enjoy the Guinness variants.
The Storehouse is also home to the Guinness Archive, Ireland's only corporate archive open to the public. The Guinness Archive is used by GUINNESS® marketing communities around the world, economic and brewing historians, collectors and anyone with an interest in the Guinness Company and Brand. The Guinness Archive provides a real life 'who do you think you are' experience to visitors wishing to research their family tree.
There is a long tradition of using GUINNESS® stout in cooking and as an accompaniment to food. Visitors can experience GUINNESS® and Food on "FIVE"; the dedicated GUINNESS® and Food floor in the informal Brewers Dining Hall, the waiter style dining in Gilroy's or they can just take time out and relax in the Sung in the traditional surrounds of Arthur's Bar.
The high point of a visit to the Storehouse is the seventh floor Gravity Bar where you receive your complimentary pint of GUINNESS®. As you sip, relax and enjoy uninterrupted panoramic views of Dublin city from what is truly one of the most spectacular places to visit in Dublin.
Catherine Toolan
Managing Director
Catherine Toolan is Managing Director of the Guinness Storehouse and a Member of the ITIC Council..