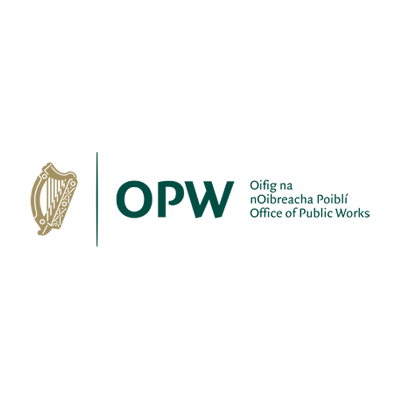 OPW – Office of Public Works

The OPW is a service organisation. Their remit covers two main areas – Estate Portfolio Management, including Heritage Services, and Flood Risk Management. The mission of the OPW is to use their experience and expertise in their mandated areas of operation to provide innovative, effective and sustainable shared services to the public and clients.
OPW Heritage Services is a key contributor to Irish Tourism. While their principal objective is to protect, conserve, maintain and present heritage properties within the estate, they also encourage appropriate public access, through informal guided or organised events.
Under the banner of Heritage Services, National Historic Properties (NHP) is responsible for the care, maintenance, management and presentation of some 30 significant properties and historic Parks, Gardens and designed landscapes across the State and is responsible for the logistical support of State events and the management of Conference Centres located at Dublin Castle, Castletown House, Farmleigh, Kilkenny Castle and Rathfarnham Castle.
National Monuments Service (NMS) is responsible for the care and presentation of approx 1,000 structures on 768 historic sites nationwide including some of the most iconic and heavily-visited tourist sites in the country such as Newgrange, Skellig Michael, Clonmacnoise and the Rock of Cashel.
Rosemary Collier is Assistant Secretary General – Head of Heritage & Capital Works Delivery and represents the OPW on the ITIC Council.