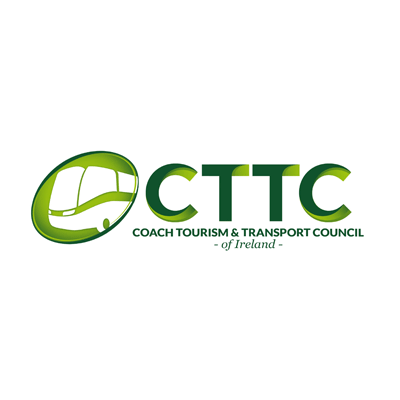 Coach Tourism & Transport Council of Ireland

The Coach Tourism & Transport Council of Ireland (CTTC) is the representative body for Ireland's coach touring companies, and Ireland's private bus operators, and promotes Ireland's top independent coach hire operators. Their members are experts in all types of coach hire and transport solutions including: airport transfers, day tours, extended touring, incentive travel, golf tours, school transport, and scheduled services.
CTTC members operate upwards of 1,000 coaches and buses and employ close to 1,750 people throughout the country. The CTTC provides representation and leadership not only for their own members, but also for the wider private coach and bus operator community.
The objectives of the CTTC are to:
Represent member's interests at all appropriate levels to external bodies on matters relating to the coach tourism and public transport industries.
To liaise with Failte Ireland to ensure a code of minimum standards for coach operators.
To maintain, and where possible, increase members' high standards of customer service.
To ensure the basic viability of our members and to promote their greater profitability.
To speak for the industry as a single, fully representative and strong voice on all matters that effect our industry.
To devise, plan and run as appropriate, relevant training courses for owners, management, staff and drivers.
To keep members informed on matters pertinent to their trade and commercial business.
To organise social events and field trips to keep members up to date with advances in vehicle manufacture, and to provide an opportunity to form close working relationships among members.
To foster goodwill and co-operation among members.
Philip O'Callaghan is a Member of the ITIC Council.